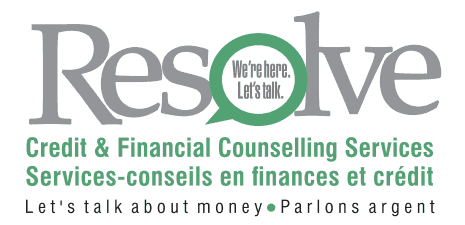 Do you have debt problems or need help budgeting and managing your money better?
Resolve Credit & Financial Counselling Services (Ontario Registration # 4138210) is a community-based non-profit credit counselling service. We are an accredited member of the Ontario Association of Credit Counselling Services (OACCS) and the Canadian Association of Credit Counselling Services (CACCS). We are also a registered Canadian charity and a member agency of the United Way.
Since 1968, Resolve Credit & Financial Counselling Services has been a well-respected and reliable source for qualified and confidential advice on managing money and overcoming debt. Our Certified Credit Counsellors will sit down with you to review your personal financial situation. From there, our counsellors will help you explore all the options that are available to you to eliminate debt, manage money better, and significantly improve the overall quality of your life! You pay no fees to sit down with a counsellor and no time limitations are imposed on counselling sessions.
"Counselling help me figure out my financial situation. My credit counselor is so friendly and personable. She totally put me at ease and lowered my anxiety. She is the best!! A+++ Gold Star!!! I am looking forward to meeting with her again."
People We've Helped – Ryan's Story
"This is a day to celebrate a victory over debt! I am very thankful for Resolve and everyone who helped us to get free from these debts! Thank you so much!."
Making an appointment with Resolve Credit & Financial Counselling Services is the first step if you want to:
Reduce high interest debt
Stop collection agency calls
Stop using payday lenders
Avoid bankruptcy
Pay bills on time
Manage income interruptions
Live within a budget
Plan towards a big purchase (house, car)
Save for the future
Family and friends care about the negative ripple effect that money problems have on their family members and loved ones—we can help reduce that stress.
We can help you stop collection calls, plan for the future, and most importantly reduce the constant strain that debt causes. We can also provide you with tools to set your own short and long-term financial goals.
"Mary is amazing and I would recommend her to anyone!"
"My Counsellor made me feel safe and did not judge me for my financial mistakes. He took the time to listen and asked probing questions to better understand my situation and offer the best advice possible. When I left I felt confident in the advice I was given and would highly recommend Resolve to anyone else in need at the Belleville office."
Our Services:
Debt Relief
A Debt Management Program (DMP) is an agreement that allows clients to make one monthly payment to our agency and repay their debt in its entirety within 5 years or less. It is a completely voluntary program and open ended, which means clients can choose to pay the outstanding balance off at any point or as quickly as they would like.
In a DMP, we contact the client's creditors, negotiate payment arrangements, and ask them to stop or reduce interest charges. This arrangement helps our clients get out of debt and gives them the opportunity for a fresh start!
Financial Coaching
We provide FREE one-on-one Financial Coaching services to help clients stay on track with budgeting and money management. We help clients develop new behaviours around spending and saving money. In consultation with our clients, we monitor these behaviours over time to ensure they are in the best shape possible to achieve their short and long-term financial goals.
Financial Literacy
We provide FREE one-on-one Financial Literacy counselling services on a variety of common interest topics including:
Common financial traps to avoid
Learning to live within income
Using credit wisely
Making financially responsible decisions
Learning how to teach your children about money—spending, saving, and credit
Consumer Education
We provide clients with FREE Consumer Education resources that support good buying habits and buyer awareness.
Ready to get started on reducing debt and managing your money more effectively? Contact us at 1-800-379-5556 to speak to a Certified Credit Counsellor.
How can we best serve you?
Our Certified Credit Counsellors are available to work with you by phone or in person at one of our 10 office locations across Southeastern Ontario!
We also host FREE workshops and seminars for groups!
Download our Credit Counselling Program Philosophy & Objectives
Ready to get started? Contact us today! 1-800-379-5556
LIST OF LOCATIONS